You have a unique power running through your veins—the power to save lives, right here in our community. Will you help?
You can save a life close to home. Hoxworth serves more than 30 hospitals in the Tri-State, so your donation could change the life of someone in your community.
One donation can save up to three lives. By separating blood into components, you can help multiple people with your red cells, platelets, and plasma.
Pay it forward. Every five minutes, someone in the Tri-State area needs blood. You never know when you, a family member, a neighbor, or friend will need an emergency blood transfusion.
An hour of your time could give someone a lifetime. A whole blood donation usually takes less than an hour —and only 10 minutes of that is spent in the donation chair!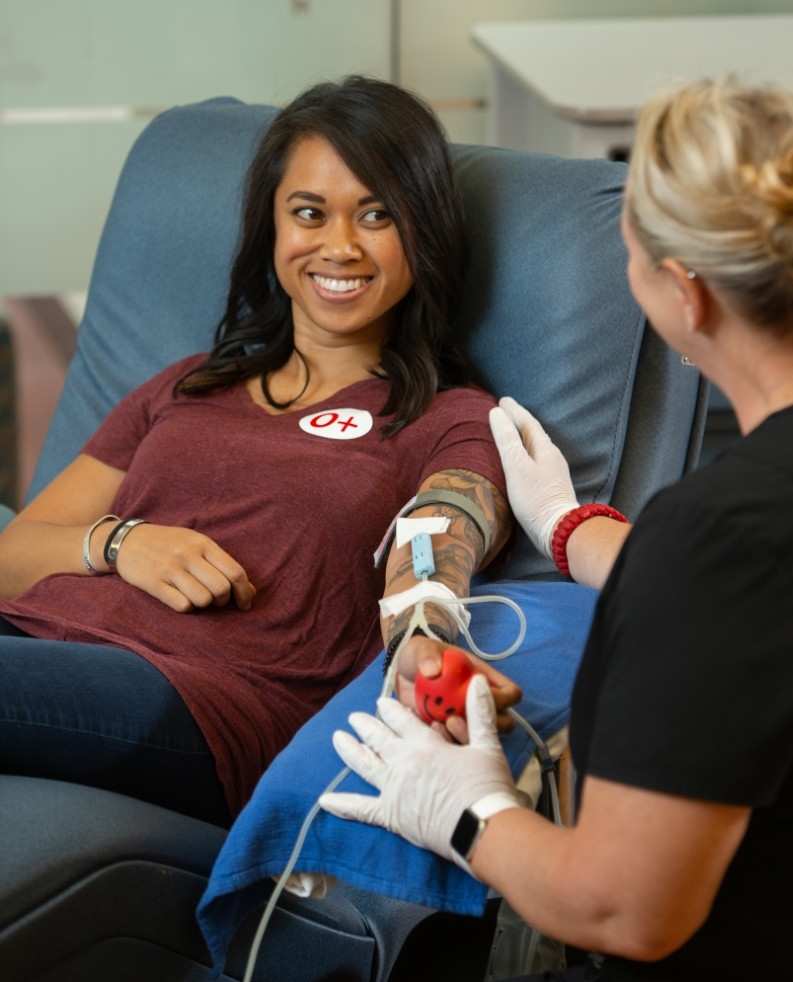 What can I expect? All donors will fill out a health and travel history and complete a mini-physical (including checking blood pressure, temperature, pulse, and iron levels) before they donate.
Will it hurt? For the most part, no! Most of our donors report feeling a small pinch, and that's it.
Tattooed donors welcome. It is a common myth that individuals with tattoos or permanent makeup can't donate blood. Actually, if your tattoo was applied in a sterile manner at a licensed facility in most states, you can donate as soon as your ink is healed.
We need you. Every day, 400 blood donors and 50 platelet donors are needed to help 

save lives in our local community.

There is no artificial substitute for blood. Blood can't be manufactured in a lab—it 

has to come from willing volunteer donors like you.

It's not just whole blood! Hoxworth has an urgent need for platelet donors. Platelets 

are a component of blood essential for clotting, and they are especially important for cancer patients, transplant recipients and trauma victims. Platelets only have a shelf life of five days, so the need is constant.

Every blood type has a unique superpower. Depending on your blood type, you may 

be asked to donate a specific blood product (like red cells, plasma, or platelets) to make your donation as effective as possible.
Don't skip breakfast! Before donating, be sure to eat a healthy meal 

and drink plenty of fluids. Eating snacks after your donation is also highly encouraged.

Come prepared. Bring a photo ID, a list of current medications, and 

recent travel history to make your registration smooth and swift.