Frequently Asked Questions
What types of blood can I receive?
Blood Type Compatibility

| | |
| --- | --- |
| Your Blood Group | You Can Receive Red Blood Cells From the Following Groups |
| O | O |
| A | A, O |
| B | B, O |
| AB | AB, A, B, O |
What type of donation should I give?
We suggest you consider the following donation type based on your blood type, patient need and other factors. Please ask our staff what donation type would be most beneficial to the patients in our community.
Best Donation for Your Blood Type

| | |
| --- | --- |
| Blood Component | Blood Type |
| Platelets | A, AB |
| Whole Blood, Red Cells | O, B |
| Plasma | A, AB |
How can I find out my blood type?
Any Donor Care Specialist can inform you of your blood type in person at any of our Neighborhood Donor Centers or Community Blood Drives if you have previously donated blood products to Hoxworth. All you need is a photo ID.
Due to confidentiality, we cannot release any information over the phone or the internet. However, our Customer Service Manager would be happy to mail your results upon your request.
How do I schedule an appointment?
Donors can call 513-451-0910 to schedule an appointment, or click the Donate Blood! button featured on our website to schedule online.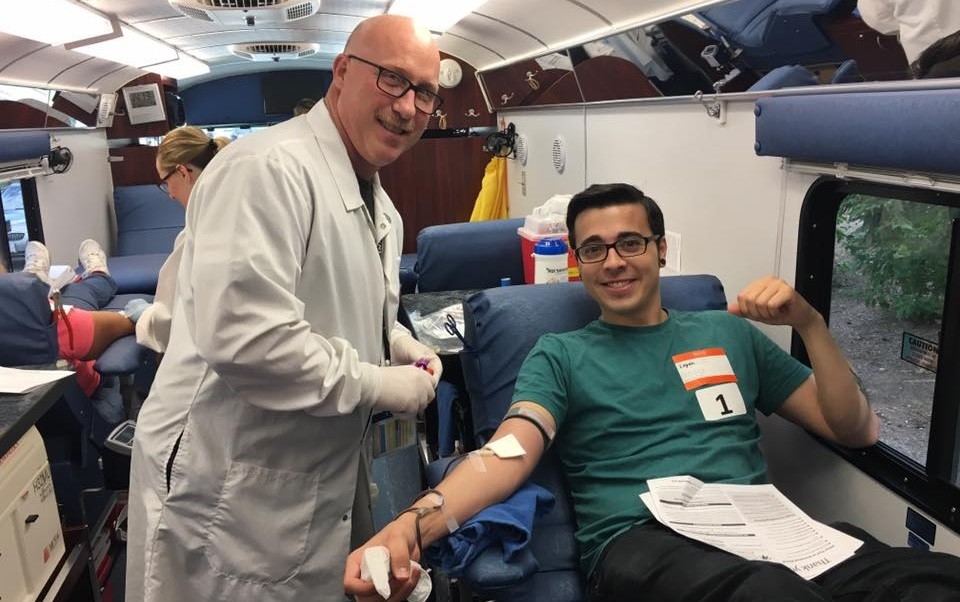 Are the health history questions necessary every time?
To ensure the safest possible blood supply, all screening questions must be asked of all donors at each donation. The FDA requires that all blood centers conform to this practice.
Frequently Asked Questions
Can I donate if I have diabetes / cancer / other illnesses?
Great question! While your eligibility will depend on your specific circumstances, you can find a list of commonly reported illnesses/conditions and their impact on eligibility below.
Cough or cold symptoms: You can donate once you are recovered and feeling generally well and healthy.
COVID-19: You can donate once you are recovered, symptom-free, and feel generally well and healthy.
Diabetes: Diabetics may donate provided they have never used bovine-source insulin.
Lupus: Permanent deferral, cannot donate.

Prostate Cancer: You can donate once 5 years cancer free.

MRSA: Once you are clear of infection, you can donate.
Ovarian and Uterine Cancer: You can donate once you are cancer free and done with treatment for one year. 
Breast Cancer: You can donate once you are cancer free and done with treatment for one year. 
Herpes: You can donate as long as you do not have an active outbreak.
Leukemia, lymphoma, or other blood cancers: Permanent deferral, cannot donate.
Is it true that my friend or family member will receive a discount on their transfusion if I donate in honor of them?
No. The bill received for any transfusion is generated by the hospital where the transfusion occurred; Hoxworth Blood Center does not charge patients for the blood that they receive. We encourage friends and family members to donate to ensure that blood is available when needed by their loved one. By encouraging blood donations, families can replenish the blood used by their family member.
Why am I charged for blood at a hospital if I've donated blood?
Hoxworth Blood Center does not charge patients for any blood they may receive. Although we do not charge for the blood product itself, Hoxworth Blood Center is reimbursed by the hospitals we serve for the costs associated with all activities involved in the process--this includes costs associated with recruitment and screening of donors, collecting and processing each generous donation, testing, labeling, storage and distribution.
Each hospital, at its discretion, will establish a fee schedule that could include additional charges related to the administration of the blood provided for transfusion and may pass on these costs to patients.
Does Hoxworth Blood Center pay donors for giving blood?
Hoxworth is fully committed to remaining a volunteer donor supported organization in compliance with FDA recommendations. The FDA recommendations were based on studies that showed a direct correlation between monetary incentives and higher risk of infectious disease transmission. Removing the cash incentive did lead to a more robust donor screening process. When combined with current testing methodology, the end result is the safest blood supply possible for the recipient.