Go for the Gold Platelet Olympics
In 2022, you can "go for the gold" and win a gold medal in saving lives.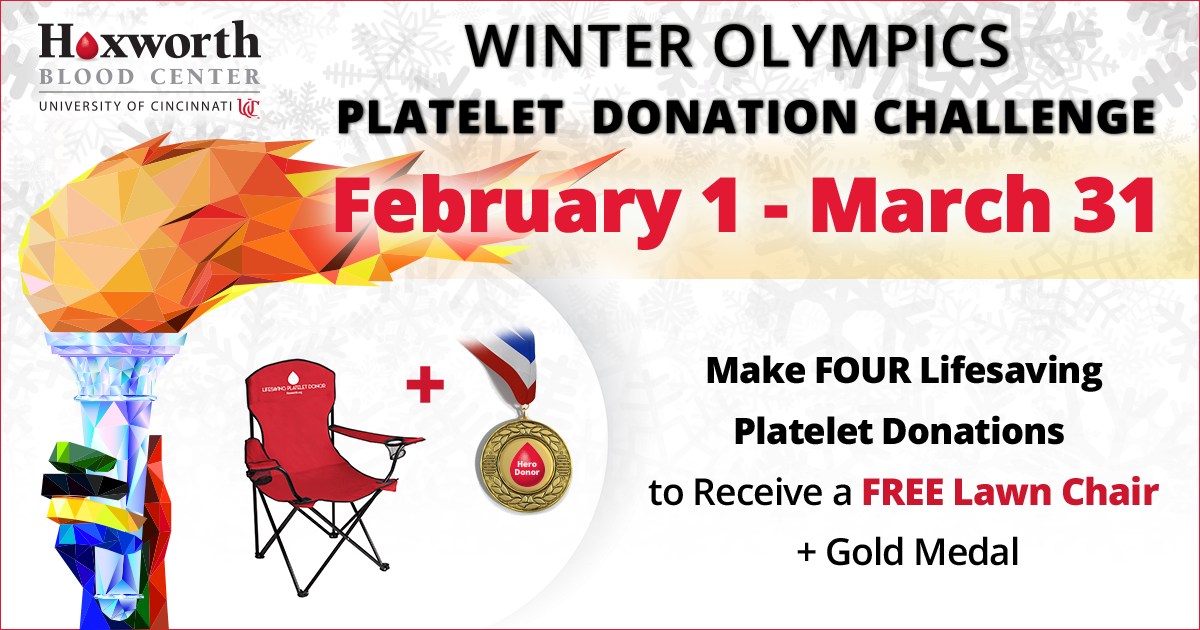 There's a reason we call platelets "liquid gold" here at Hoxworth, and it's not just because of their sunny yellow hue.  Platelets are an incredibly important component of blood, essential for blood clotting and critical for patients undergoing organ transplants and treatment for cancer. Platelets have a short shelf life compared to red blood cells--about 7 days--so Hoxworth has an ongoing need for dedicated platelet donors.
Donate platelets four times in 10 weeks, between February 1 and March 31, and receive a special gold medal to commemorate your accomplishment, as well as an exclusive "gold medal" lawn chair.  Don't wait—schedule your first donation today! 
How to Win the Platelet Olympics
Step 1: Schedule your 4 platelet appointments for February 1 through March 31 online or call 513-451-0910. Donors are eligible to donate platelet 5 times in 10 weeks.
Step 2: Make 4 lifesaving platelet donations.
Step 3: Congratulations: You are a gold medal winner! You will receive your gold medal and limited-edition lawn chair at a donor center at your final donation.
Frequently Asked Questions
How can I participate in the "Go for the Gold" Platelet Challenge?
Easy! You just need to successfully donate platelets four separate times between February 1st and March 31st.  Hoxworth will automatically track donors who completed four donations and award winners with their prize. 
What are platelets, and how are they used?
Platelets are the smallest blood cells in our bodies, and they are essential for normal blood clotting. When a blood vessel is damaged, it sends out a chemical signal to the platelets circulating through the blood stream.  The platelets then rush to the site of damage and form a clot to stop the bleeding and fix the damage.
Platelet transfusions are critical for hundreds of patients in area hospitals, from cancer patients who are undergoing chemotherapy to organ recipients to victims of trauma. 
What makes platelets so valuable?
Platelets have a shelf life of about seven days—so while red blood cells can be stored for a few weeks, blood banks like Hoxworth have to continually replenish their supply of platelets as they are used.
There is no artificial substitute for platelets, and they can't be made in a lab. All platelet transfusions must come from volunteer blood donors! 
How often can I donate platelets?
Eligible individuals can donate platelets once every two weeks. 
How long does a platelet donation take?
A standard platelet donation takes about 90 minutes—longer than a whole blood donation or red cell donation. That's because your blood will be separated through one of our machines, and you'll receive your red blood cells back.  But don't worry, we'll make sure you're relaxed and comfortable! Our platelet donors get heating pads, blankets, and a tablet so they can catch up on their latest Netflix or Hulu shows.